THE THIRD ANNUAL MEETING OF THE GLOBAL INCLUSION ONLINE FORUM TO TAKE PLACE ON MAY 19-26, 2022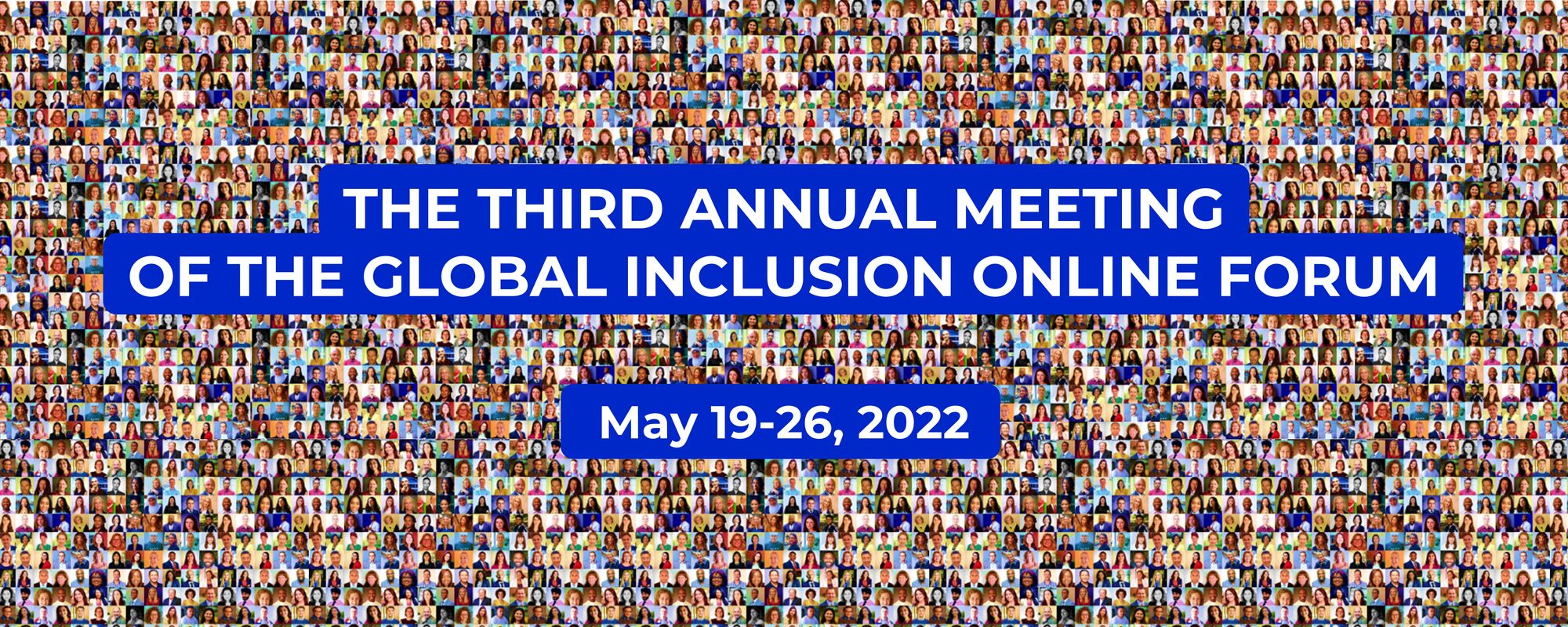 The GIOF Annual Meeting 2022 is our third annual online event taking place on May 19-26, 2022. The event is designed to bring together the world's leading diversity and inclusion executives, HR consultants, and D&I activists alongside business owners and managers looking for ways to make their businesses more inclusive and, as a result, more profitable and successful.
This year's event will invite more than 3000 attendees, practitioners in the field of diversity, equity and inclusion, and 90 highly seasoned speakers with an extensive background in implementing DEI practices into their workplaces. Our speakers from Fortune 500 companies this year will include:
Other speakers represent the world's largest organizations and businesses, including NBCUniversal, Under Armour, Deliveroo, EY, IKEA, Phillip Morris, IBM, L'OCCITANE Group, Siemens Healthineers, Air Liquide, Disability: IN, Global Disability Inclusion, UNOPS, Sanofi and other leading corporations, diversity consultancies and NGOs.
"We are aiming for continuous improvement of our events. This time we will have better structure, more focus on case studies, shorter entries to keep the attention of our audience as well as more interaction between our attendees," said Dmytro Chernohod, Head Organizer of the GIOF Annual Meeting 2022.
The 2022 Forum's agenda is divided into seven thematic sections, including Disability Inclusion, Inclusive Hiring, Promotion and Retention Practices, Racial and Ethnic Inclusion, LGBTQ+ Inclusion, Gender Equality, Accessibility, and Mental Health in the Hybrid Environment.
The first two days will be packed with 26 case study presentations and seven panel discussions, as well as a Startup Pitch Competition for emerging businesses dealing with D&I and Inclusivity Business Awards for small companies practicing diversity and inclusion internally. Participants can enjoy more than 50 hours of sessions full of insights to implement into their corporate cultures. The conference will be followed by six days of nine specialized workshops delivered by experienced DEI Experts.
This year's thematic sponsors include DEIXA, which is launching in June, so stay tuned, and Verbit, moderating Inclusive Hiring, Promotion and Retention Practices. Other partners of the GIOF Annual Meeting 2022 include Pine, Moves Financial Inc, InterviewIA, F6S, jobs4refugees gUG, the female factor, and Diversify.

"We are glad to see the Forum is growing year by year. Despite all the events happening around the world at this time, we keep our focus on advancing diversity, equity and inclusion practices in developed countries as well as introducing them into a number of emerging markets," says Anna Krys, Head of Partnerships at GIOF.
"Most of our team is coming from Ukraine and since the start of the full-scale invasion on February 24th, our team members have had to relocate to safer locations. We faced unexpected work challenges, but we are excited to continue our mission of sharing diversity, equity, and inclusion practices with the global audience," said Kostiantyn Gridin, founder of the Global Inclusion Online Forum platform.
The Global Inclusion Online Forum platform was established after successfully implementing Global Inclusion Online Forums in 2020 and 2021, fruitful collaborations with 150+ speakers and 5,000+ DEI professionals from the world's biggest corporations, consultancies, NGOs, and international organizations.
For any additional information, please contact Dmytro Chernohod, Head Organizer of the GIOF Annual Meeting 2022, via dc@cfcbigideas.com.